The referee Jon Moss constructed controversial but close call in Sundays Leicester v West Ham match, including sending off Jamie Vardy, but pundits and former referees should know better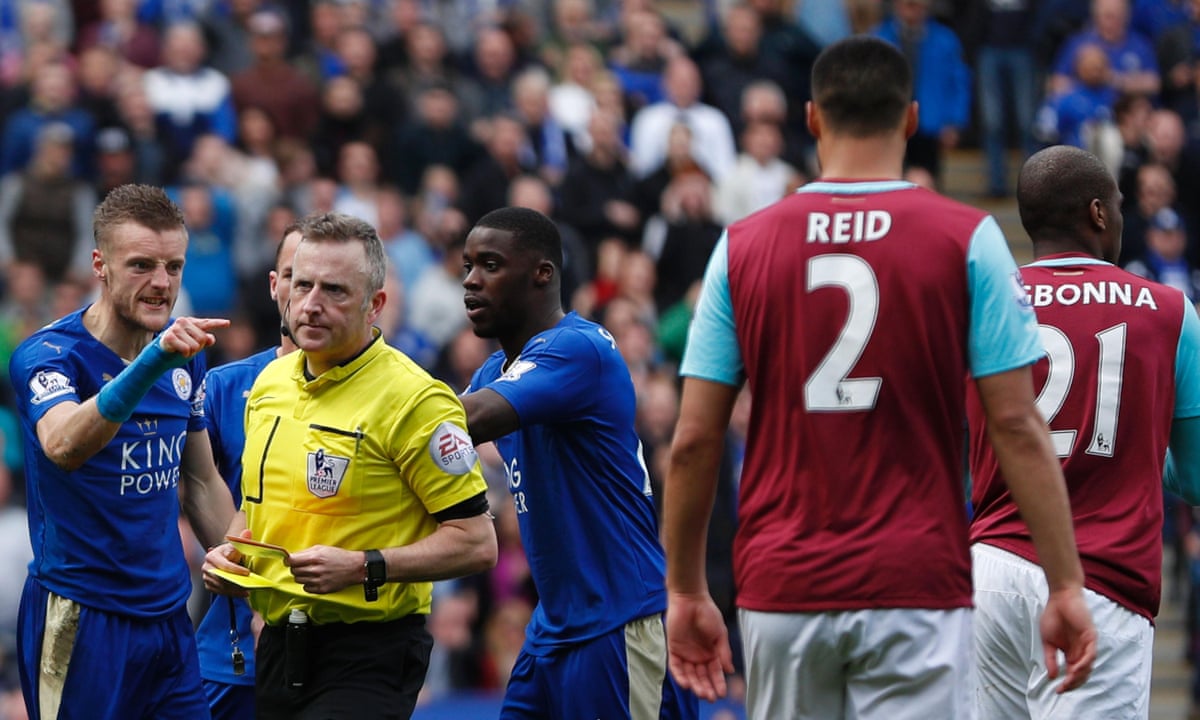 Jon Moss did not have to wait until he had blown the final whistle on Leicester Citys frantic 2-2 draw with West Ham United before being hit by a tidal wave of abuse and criticism. Such is the depressing predictability of modern society an explosion of opprobrium had already shuddered through social media while the referee was busy having his intellect boggled by the Wrestlemania-style grappling going on in the King Power Stadium penalty areas.
Peter Schmeichel called Moss the worst ever referee and asked hyperbolically if he was on narcotics while fans of both sides got to work publicly shaming the 45 -year-old as "hes been gone" about his task in an enthusiastic way. After the match he had to contend with the former head of referees Keith Hackett describing the game as being too big for him and his showing as the worst refereeing performance I have witnessed all season, Graham Poll scrutinising every decision in his newspaper column and Mark Halsey accusing Moss of having lost the plot.
Nice work from former referees who one would think might understand the damaging nature such public utterances could have on Mosss future decision-making and potential job. But the barracking was not over. Oh no. Alan Shearer laid into Moss on Match of the Day 2 for his numerous inconsistencies( careful Alan) and said the game was too much for him while other former players joined the chorus of critics only too keen to cruelly jump in while Moss was already battered and bruised. There have been far worse refereeing performances , you know. Just ask Poll.
Lets remember, most of footballs laws are open to interpretation and many of the decisions Moss induced, barring the soft last-minute penalty awarded to Leicester, were scarcely clearcut.
Perhaps the greatest support given to Moss came from an unlikely source, Slaven Bilic, the West Ham manager, who through his obvious bafflement at the injustice afforded his team in the closing stages came out with perhaps one of the most honest appraisals of a referees job there has been from a football manager in the immediate aftermath of a controversial game. Its hard for him. Here you have 32,000 people hollering at every contact in the box, every long ball in the box. If its for the home side its a penalty or handball. If its in the other box its defraud or diving or whatever, said Bilic. Its hard, its extremely hard for him and the game ran like crazy and they were losing. Its easy now to say the refs shouldnt get influenced by the fans. On newspaper it is easy to say that. Actually its real life.
Controversial decisions followed Moss around wherever he peeped and did not peep. It began with Leicesters human wardrobe Robert Huth sending Winston Reid tumbling in the penalty area after 18 minutes and continued through Jamie Vardys sending-off after a second yellow card, issued for diving which many agree was a correct call for which he was verbally abused by the Leicester forward, to a series of penalty-area mles on corners that resembled cartoon-style dust-ups such was the difficulty in working out which appendage belonged to which body, never mind the nature of the offence committed.
And it is here that there should be greater understanding presented towards Moss and his fellow officers. The modern trend on corners is for there to be greater movement and physical interaction in the penalty regions from defenders and forwards than ever before. To have eyes on up to 20 players all looking for an advantage at any one time is impossible. Mosss advising to Morgan and Huth was a clear sign that the referee needed assistance from the players to prevent action being taken. He got none. Soft as Reids forward autumn may have been, by holding the West Ham defender round the waist Morgan was risking being penalised … and duly was.
Was the game too big for Moss, as Hackett has suggested? Likely not. His last game was the 100 mph 1-1 describe at Anfield between Liverpool and Tottenham, a game that pulsated from first to last in a heady atmosphere and was of huge importance to Spurs in terms of the title race. He also refereed last years FA Cup final but in all likelihood he would not have been put in charge at Leicester had Mark Clattenburg and Martin Atkinson not been summoned to Euro 2016 fitness tests in France this week.
Earlier this season Moss was told to his face by Jos Mourinho that he was fucking weak at half-time during Chelseas defeat by West Ham. Has this been running through his intellect in games since? Is this why he chose to take action rather than be passive at the King Power Stadium on Sunday? The pressure exerted on referees is unimaginable to those who do not have to work in such a harsh and public surrounding. It is little wonder the pool of Premier League referees is at its lowest number ever this season( 17 ). Recruitment of referees at grassroots level is becoming a undertaking that is almost as burdensome as the job of refereeing in the top flight. Moss being burnt so publicly is not going to help.
Just over a year ago Moss spoke to Cambridge students about dealing with the pressure of being a top-flight referee. He said he chose to take over the job when his semi-professional playing career ended because he took a referee to task over a decision and was told if you think you can do any better have a go yourself. We should be thankful he is having a go. The game depends on curious kinds such as he who are willing to set themselves in the firing line week in, week out. He also spoke about his desire to have a role fostering the next generation of match officers rather than joining the growing number of former referees earning a living by having an sentiment on the standard of refereeing. Sentiments that, lets be honest, are merely of interest when they involve picking pits in the work of one of their own.
Perhaps Moss is not among the best referees in the country but he is certainly not the worst and deserves better than to be trampled on in the consequences of the a game that involved many decisions that were hard to unravel even with the help of countless television replays.
If Moss is a dithering wreck in his next appearance with a whistling, perhaps we will all have had a hand in constructing him so.
Read more: www.theguardian.com