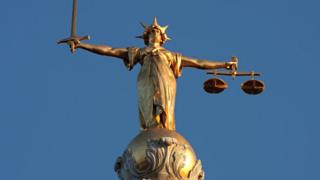 New tests should be introduced to assess whether a defendant facing criminal charges is mentally fit to stand trial, the Law Commission says.
Currently two doctors, including a psychiatrist, advise magistrates on a defendant's fitness before a trial.
But the commission, an independent body that reviews statutes in England and Wales, wants advice from psychologists to be allowed, along with wider testing.
The Ministry of Justice said it would carefully consider the recommendations.
The commission said existing rules to decide whether or not a defendant was mentally fit were "out of date, misunderstood and inconsistently applied".
'Shift in focus'
It called for a "shift in focus" from the existing tests, which it said prioritised "intellectual ability".
Tom Symonds, BBC home affairs correspondent, said the commission was concerned "too many defendants face criminal trials despite absence the capacities fully to take part, often because of poor mental health".
Defendants should have a statutory entitlement to assistance to enable them to have a fair trial, the commission on human rights said.
Judges and other legal practitioners should receive training to help identify defendants who need subsistence, it added.
Currently, if a judge decides a normal trial cannot go ahead, a so-called trial of the facts is held, in which a jury decides if the defendant is guilty.